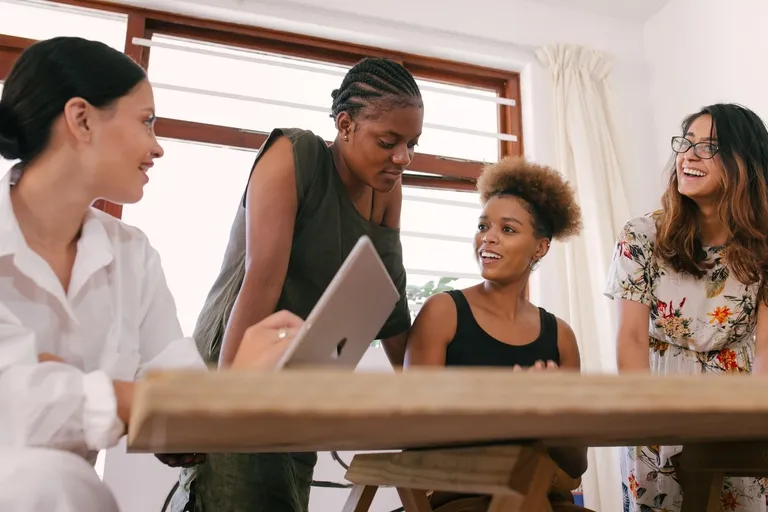 Join the hundreds of investors, businesses and intermediaries who are improving their gender smart practices today!
Sign up

Go to external page:
The Gender Smart Nexus enables businesses, investors, and entrepreneurial intermediaries to improve business outcomes and social impacts through advancing gender inclusion in practice.
How it works
If you are running a business
Sign up. Create your account.
Assess. Take the Gender Enterprise Self Assessment Survey that tells you what your business is doing well, and how you can become more gender inclusive practice, as well as establish a baseline and track progress.
Analyse. Receive an Enterprise Gender Inclusion Report that features a roadmap of which practices to pursue, and creates an opportunity to compare results against portfolio or industry benchmarks.
Measure and Compare. By aggregating and standardizing gender inclusion data, Gender Smart Nexus provides gender metrics that can be used to make decisions to improve your business.
If you invest in or support SMEs
Sign up. Create your account.
Assess. Take the Gender Lens Investing Survey that explores ways that you are engaging with your portfolio companies. You can also invite the companies you are supporting to join the Gender Smart Nexus as part of your portfolio upon formal engagement with Value for Women.
Analyse. Receive a Gender Lens Report that offers guidance around how to incorporate a gender lens into investing practices and processes. Additionally, receive a Portfolio Report that informs you about opportunities and progress towards gender inclusive practices at a portfolio level, with the opportunity to request individual company report results.
Measure and Compare. You will be able to track progress and gain insights into best practices, quick wins and long term social and financial impacts that are a result of taking a gender approach.
Engage. Incentivize and work with portfolio companies to promote gender inclusion within their workforce, value chain and products and services.
Why join?
By joining Gender Smart Nexus, you will join a set of prominent leaders in the entrepreneurial ecosystem that are working together to build and test a business-first, holistic approach to gender inclusion across the globe.
You will receive a free and tailored report, including:

Your alignment to 2X Challenge.
An overview of how your business is (or is not) applying a gender lens across different business areas, ranging from product design and marketing all the way to customer service. In other words: Including but also going beyond HR!
Tailored recommendations for next steps, based on your current activities, as well as your top 3 strategic business priorities.
You will be able to benchmark yourself against the rest of your peers.

Impact Investors & Entrepreneurial Intermediaries
All members of Gender Smart Nexus will also learn about best practices and contribute to learnings and evidence to address gender inequalities and demonstrate the value-add of gender inclusion across a broad ecosystem of business and investment
Sign up

Go to external page:
Alignment
Gender Smart Nexus integrates the 2X Challenge's criteria in its assessments. The 2X Challenge is a global commitment from the G7's development finance institutions (DFIs) and other DFIs to collectively mobilize $3 billion. These investment commitments aim to provide women in developing markets with improved access to leadership opportunities, quality employment, finance, enterprise support, and products and services that enhance economic participation and access. To date, over $5 billion have been committed.
You will be equipped with standard and comparable metrics to learn more about the relationship between gender inclusive practices and business performance.
Stay tuned

Additional features, knowledge pieces, sector and regional analyses relevant to those engaged with the Gender Smart Nexus Platform will be made available on a regular basis. So, stay tuned and join us today to become a part of this innovative community of gender inclusion experts!

Sign Up

Go to external page:

About Value for Women

We are a specialized advisory firm helping organizations advance gender inclusion. We believe that women are key drivers of economic and social growth, and that women's inclusion is essential for better business outcomes. We identify and test new solutions that foster inclusion while unlocking the powerful economic potential that women hold.

Find out more

Go to external page:
Who is supporting the Gender Smart Nexus