Value for Women
Family Bank Case Study: How a Kenyan Commercial Bank is Expanding the Share of Women Business Owners in Its Portfolio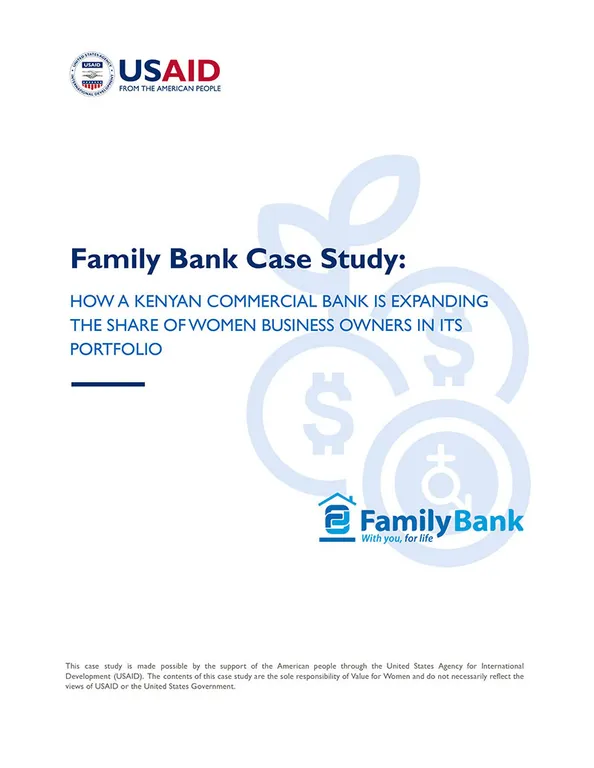 This case study describes Family Bank's journey to improve gender equality through its business operations. Family Bank Limited is a woman-led commercial bank in Kenya that is working to become a Tier I bank. Developing a holistic women's value proposition is a prominent feature in its five-year strategy toward this goal. With support from Aceli, Value for Women and Family Bank set out to improve its offering to women customers, with a focus on women-owned agricultural small and medium enterprises (agri-SMEs). The bank trained staff on gender equality in their work and incorporated gender metrics across the full lending process. Between the first and second quarters of 2022, the bank saw a 9.5% increase in women clients entering their micro and SME banking pipeline.
This case study details the actions implemented by Family Bank, the powerful results achieved to date in business operations and staff knowledge, and lessons learned. In so doing, it aims to contribute to filling the information gap on lending to women-owned agri-SMEs.
This case study was designed for several primary audiences:
• Banks and non-bank financial institutions;
• Funders and gender technical assistance (TA) providers.
Value for Women
Value for Women is a global advisory services firm with a mission to promote women's participation and leadership in business, finance and investment around the globe, with a focus on emerging markets.