Aparajita Agrawal, Shoshana Grossman-Crist
Creating Opportunities for 10 Million Women: Equipping Businesses and Investors to Drive Change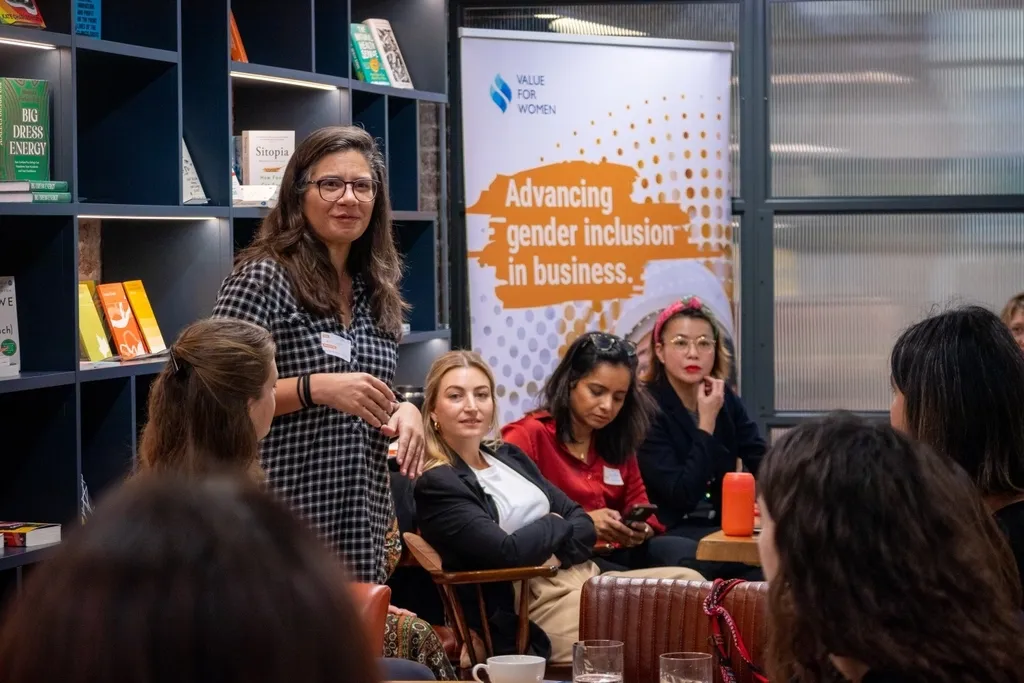 The global gender gap stands as a stark reminder of the uneven playing field women face in entrepreneurship, finance, and investment. Traditionally, the private sector hasn't been seen as a driver of gender inclusion, but at Value for Women (VfW), we firmly believe that businesses and investors have the power to create positive change and close this gap.
For over a decade, VfW has been at the forefront of advancing gender inclusion. Today, we are thrilled to announce that we are scaling our work to create opportunities and better conditions for 10 million women over the next decade. Our renewed mission is to equip leaders and institutions to make tangible changes for women's equality and social inclusion.


Achieving a Bold, New Level of Impact
VfW's new strategy is designed to achieve bold impacts in the short term. These include equipping 10,000 leaders with the knowledge, skills, and tools to drive gender and social inclusion by 2028. Additionally, we will support 5,000 businesses, investors, and financial institutions to adopt gender-forward practices and catalyze US$1 billion of capital with a gender lens.
Our intention is to leverage the role of businesses, investors, and financial institutions to create opportunities and better conditions for 10 million women in all their diversity.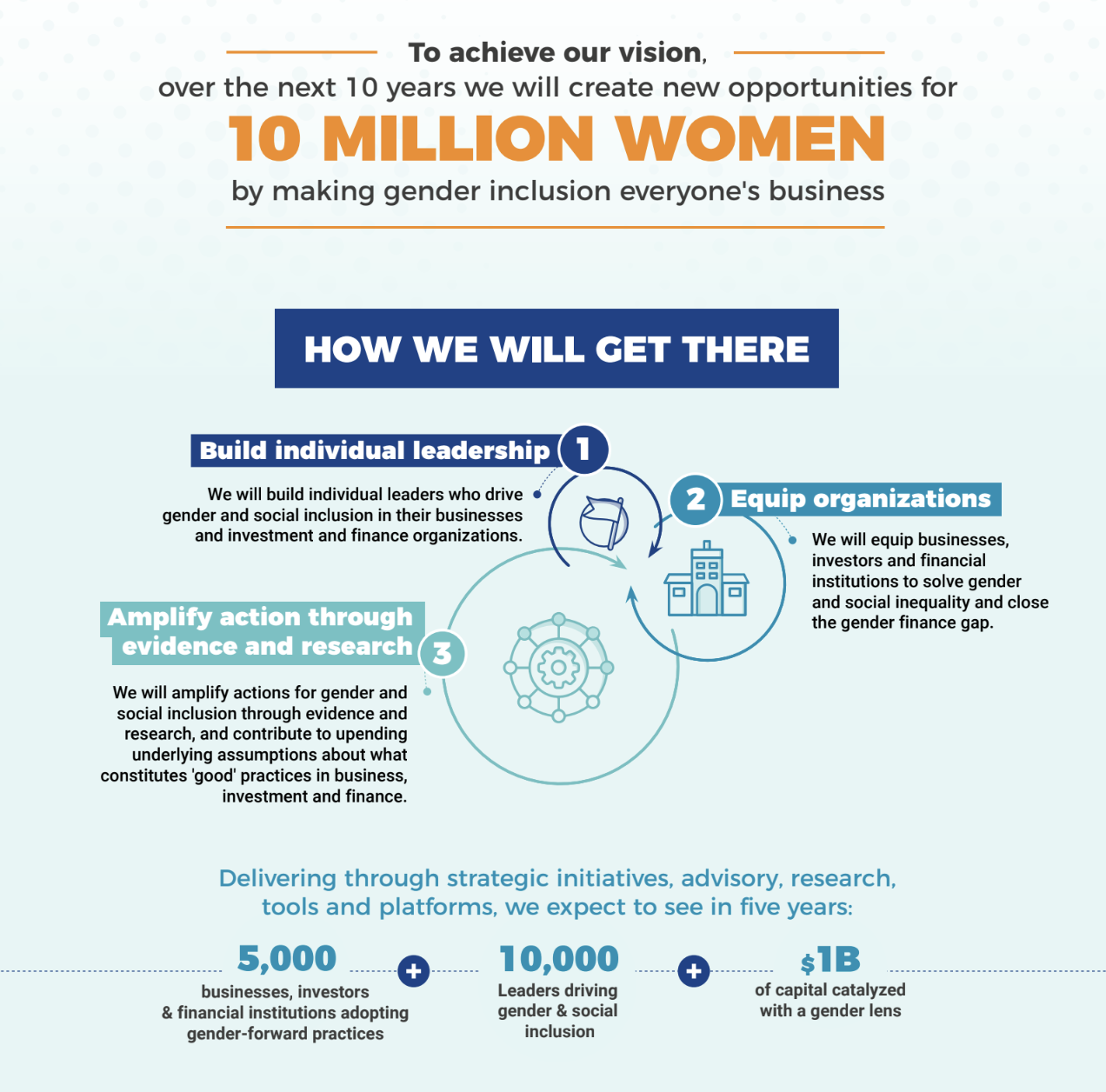 Driving Change Through Practical Action
At VfW, we firmly believe that practical actions drive systemic change. Our new five-year strategy is grounded in designing and deploying practical ways for investment, finance, and business to advance gender and social inclusion while creating value, mitigating risk, and driving innovation. We are determined to go wider to reach more mainstream audiences; to go deeper by tackling Inclusion, Diversity, Equity, and Intersectionality; and to be bolder by driving more innovation and upending the status quo for what 'good' business and investment practice looks like.
Partnerships to Scale This Change
VfW is determined to catalyze and scale change, especially in emerging markets worldwide. Our initiatives such as the Gender Lens Investing Fellowship for Asia, in partnership with 2X Global, and the Gender Lens Investing Immersive, with SwedFund, have already made significant strides. Collaboration is at the heart of our approach, and we believe that success is achieved through partnership. Between 2020 and 2022, we advised over 25 fund managers representing a total of US$100B+ assets under management to adopt practices that move capital with a gender lens. These are great examples of how change happens, and they are just the tip of the iceberg.
Will you join us to make this a reality and impact 10 million women in the next ten years? We invite businesses, investors, organizations, and funding partners to explore how together we can create lasting change. Let's make gender inclusion everyone's business and accelerate progress towards a more equitable and inclusive world.
Tangible Results on the Ground
The impact of VfW's approaches are evident in myriad success stories. One of these is Mango Fund, a Ugandan investment fund which saw its share of women borrowers in its portfolio increase from under 15% to over 25% in just six months, thanks to our gender-smart technical assistance (see case study here). Kentaste, a coconut processor in Kenya, improved its supply chain by engaging more women coconut suppliers; it increased the number of women farmers recruited by 2.7 times in a single month (see case study here).
Empowering Women, Enriching Societies
Our vision encompasses thriving economies where women, in all their diversity, realize their full potential; where diversity and inclusion lead to profit, healthy societies, and a sustainable planet. We get there by increasing women's access to decision-making, resources, and agency.
Email us to, together, make gender Inclusion everyone's business. Empower women, drive innovation, and make a meaningful impact— this is just the beginning.
Aparajita Agrawal
Aparajita leads Value for Women's overall strategy and partnership development efforts to help it build its practice and thought leadership in the gender, business, and finance sector. She brings two decades of experience in impact investing, social entrepreneurship, strategic partnerships and stakeholder management, with a focus on developing markets.
Shoshana Grossman-Crist
Shoshana is an Advisor – Knowledge Management & Communications at Value for Women. Shoshana oversees product conceptualization and technical writing for the organization's publications, ranging from research and evaluation reports to case studies and podcasts. Shoshana brings over 15 years of international development experience in both leadership and field positions across sectors, notably with the Inter-American Development Bank, Danone, Chemonics, TechnoServe and local non-governmental organizations.